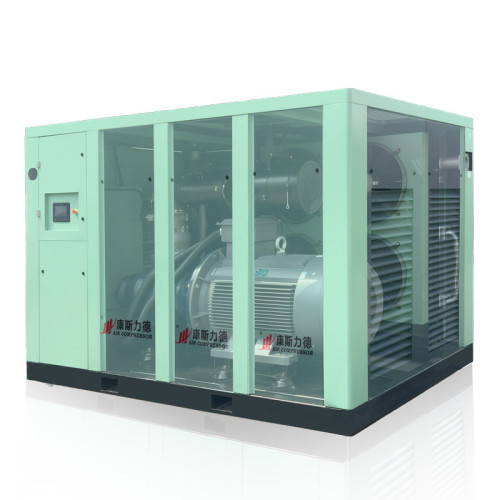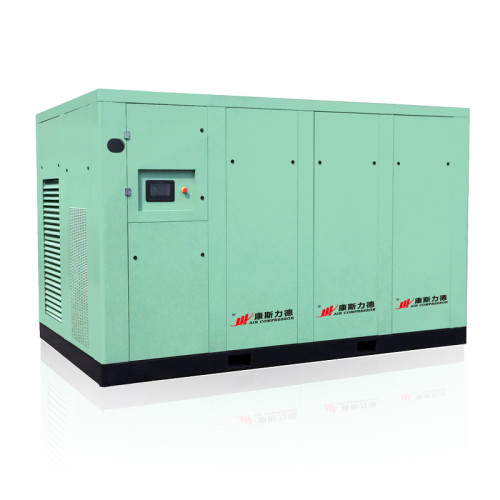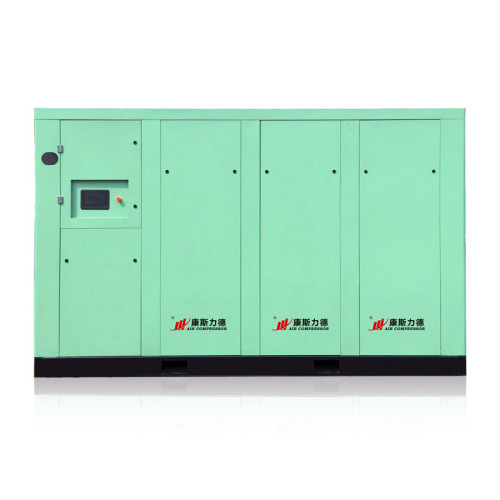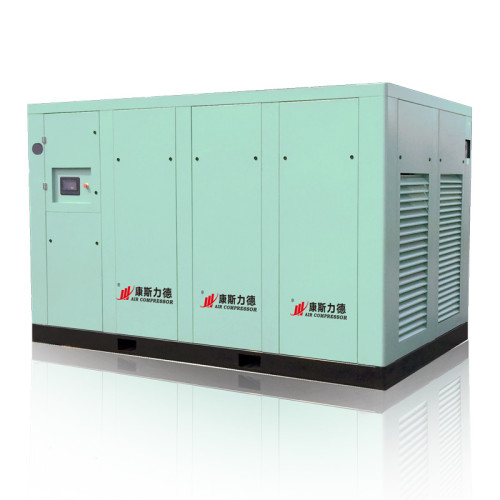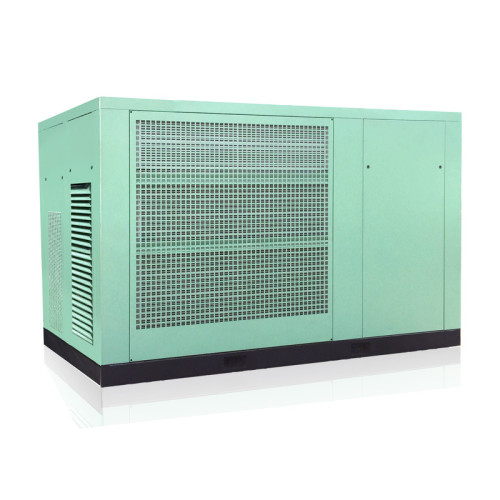 Pm Variable Frequency Permanent Magnet Screw Air Compressor 11kw
Item specifics
Power

22~250 Kw
Displacement

3.2~55 M3/Min
Pressure

7/8/10/13 Bar
Description
motor with high efficiency, Remarkable energy-saving effect




1. At the rated speed points, permanent magnet motor efficiency is higher Than ordinary motors.




2. Under low motor speed, a permanent magnet motor can still keep high Motor efficiency. If the gas consumption is less, it still keeps extremely High efficiency. Compared with common frequency conversion




3: Motor, the motor efficiency appears obvious gap and the air Compressor has effective energy saving




It has an integrated structure, configuration of high-efficiency Permanent magnet motor, small size, saving space, and easy disassembly. Deploying an efficient permanent magnet variable frequency controller, its a Small volume, and low noise Can change the speed of the permanent magnet motor according to The exhaust volume, it will achieve lower operation noise than ordinary Ones.PM Screw Air Compressor




4. Permanent magnet motor has high-performance NdFeB permanent Magnet, 120 º without loss of excitation, and service life of over 15 Years.




5. Stator coil adopts special inverter corona-resistant enameled wire. Insulation performance and longer service life.




6. Realizing soft start, the motor current will not exceed the full load Current during operation, and greatly reduce the impact on network Equipment, with no damage to electrical equipment.OSG-EZV series permanent magnet compressor Stable operation.





Energy-saving advantages:




a. Permanent magnet motor has high-performance NdFeB permanent Magnet, 120 º without loss of excitation, and service life of over 15 Years.




b. Stator coil adopts special inverter corona-resistant enameled wire. Insulation performance and longer service life.




c. Realizing soft start, the motor current will not exceed the full load Current during operation, and greatly reduce the impact on network Equipment, with no damage to electrical equipment.OSG-EZV series permanent magnet compressor




Energy-saving advantages:







Condition energy saving




1: The permanent magnet motor remains high efficiency at low speeds, ensuring Obvious energy-saving advantages in small air volumes.




2: Frequency range from 0%-100% (common conversion from 60%-100%)




3: Compared with the fixed speed compressor, energy saving 22%-40%




4: Compared with the common inverter compressor, energy saving 5%-15%




5: System volume fluctuations larger, then energy-saving effect more obvious.




6: Energy saving system of unloading (inverter):




According to the stationary air compressors in gas consumption fluctuation, it has the unloading time, then the air compressor idling but also need 45% of the Electricity, but the permanent-magnet frequency air compressor will control for Inverter, no unloading and no waste. If the air compressor units become larger,




Energy saves more. Save the wasted electric energy by pressure control bandwidth (energy saving):




The fixed compressor must set a minimum control pressure for the 1Barg band (i. E. Air Compressor limits) to avoid the impact on the unit and the power grid. Several Machines must use together with a pressure gradient, more wide pressure, while the OSG permanent-magnet variable-frequency Air compressor series is inverter control, Unlimited stop, no need to set pressure, but a pressure point on the line. With the pressure of each 0.14Barg bandwidth, the system can save energy by 1%.







Energy saving startup (inverter):




The Air compressor's starting current is 3-6 times the rated current, the frequent Start will waste a lot of energy, and the frequency conversion type has no frequent Starting and stopping, but a soft start. The maximum current does not exceed the Rated working current, no energy waste. At the same time also greatly reduce the Impact on network equipment, and no damage to electrical equipment OSG company has obtained a compressor production license(certificate NO: XK06-010-00597) and has obtained a quality system certificate and a general machinery certificate. Product design, Manufacturing processes are strict in accordance with ISO9001: 2008 quality system standards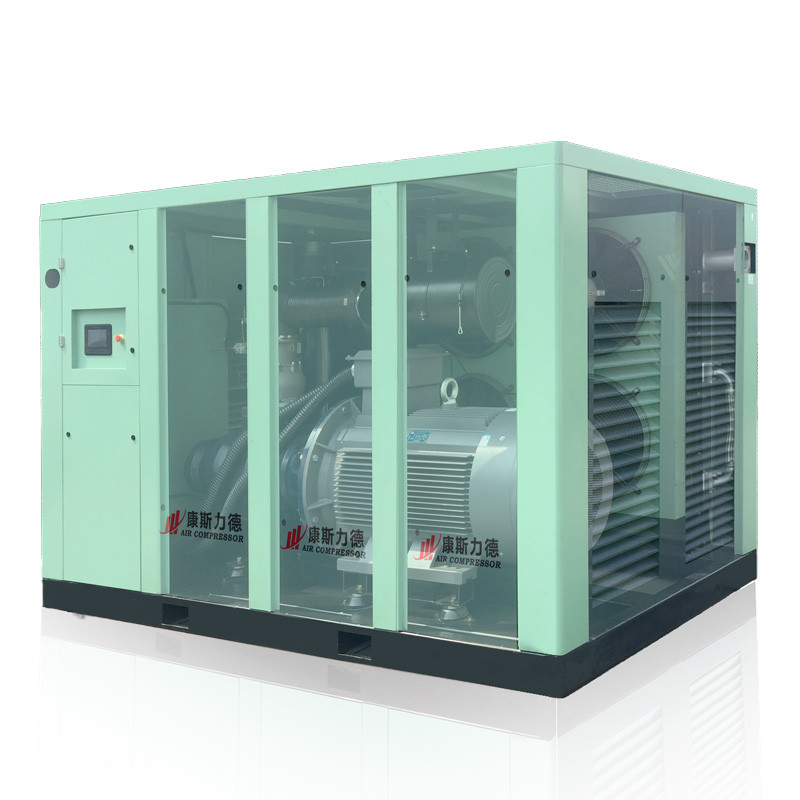 Control Panel: Smart touch screen design, multi-language LCD keep the outstanding performance.
Variable Speed Drive:
Adopt professional variable
speed drives, such as ABB,
INOVANCE, or other famous
brands, to ensure perfect
performance.
Stainless Steel Pipes:
High and low temperature resistant, high-pressure resistant.
Compressed Air Vessel: Reduction of pressure drops and energy costs, quality air with low oil content.
Air End: Original Germany Jinjing air end, advanced SAP profile design.
Moulded Air Filter
:
High-tech, good flexibility, good resilience,
Performance well along with the temperature changes,
Less compression,
Precision fit of filter element size and air filter assembly,
Multi-stage seal design.
Oil Gas Separator
:
Maximum working pressure can reach 20Bar,
Use up to 4,000Hr,
Maximum withstand pressure drop: 0.12Mpa,
Efficient separation, oil content less than 3ppm,
External oil separator design, maintenance time is only taken
2min.
Inverter: High utilization rate, removable panel, switch using, memory function, Protection can realize phase loss, phase-to-phase short circuit, short-circuit to ground, over-current, over-voltage,under-voltage, overload, over-heat, motor thermal protection circuit board, reinforced coating, dust and corrosion protection, Independent cooling design, suspended installation, dust proof, corrosion proof, small heat, powerful overload and unique
current limiting technology, Proprietary, and efficient control procedures, Ultra-wide frequency design, and wider control range.
Model

Pressure
(mpa)

Displacement




(

m³/min)

Power
(kw)

Dimension




(

mm)

Weight




(

kg)

Outlet Size

PV-0.7/22

0.7

4.2

22

1500*900*1220

700

Rp1"

PV-0.8/22

0.8

4.1

PV-1.0/22

1.0

3.5

PV-1.3/22

1.3

3.2

PV-0.7/37

0.7

7.0

37

1650*1050*1360

900

Rp1 1/2"

PV-0.8/37

0.8

7.1

PV-1.0/37

1.0

5.8

PV-1.3/37

1.3

5.4

PV-0.7/45

0.7

9.8

45

1800*1250*1600

1000

Rp2"

PV-0.8/45

0.8

9.7

PV-1.0/45

1.0

7.8

PV-1.3/45

1.3

6.5

PV-0.7/55

0.7

12.2

55

2150*1350*1650

1500

Rp2"

PV-0.8/55

0.8

12.0

PV-1.0/55

1.0

9.6

PV-1.3/55

1.3

8.6

PV-0.7/75

0.7

16.8

75

2250*1350*1760

1800

Rp2"

PV-0.8/75

0.8

16.5

PV-1.0/75

1.0

12.5

PV-1.3/75

1.3

11.2

PV-0.7/90

0.7

19.8

90

2450*1770*1560

2000

Rp2"

PV-0.8/90

0.8

19.2

PV-1.0/90

1.0

16.9

PV-1.3/90

1.3

14.3

PV-0.7/110

0.7

23.6

110

2670*1770*1880

2300

Rp2"

PV-0.8/110

0.8

23.1

PV-1.0/110

1.0

19.7

PV-1.3/110

1.3

17.6

PV-0.7/132

0.7

30.0

132

2750*1860*1900

2800

Rp3"

PV-0.8/132

0.8

28.0

PV-1.0/132

1.0

23.5

PV-1.3/132

1.3

19.8

PV-0.7/160

0.7

34.5

160

2900*2100*2300

3000

DN125

PV-0.8/160

0.8

33.6

PV-1.0/160

1.0

30.0

PV-1.3/160

1.3

28.3

PV-0.7/185

0.7

41.0

185

3000*2100*2300

3300

DN125

PV-0.8/185

0.8

38.4

PV-1.0/185

1.0

32.5

PV-1.3/185

1.3

28.6

PV-0.7/200

0.7

44.6

200

3300*2000*2280

3500

DN125

PV-0.8/200

0.8

43.0

PV-1.0/200

1.0

38.5

PV-1.3/200

1.3

32.8

PV-0.7/220

0.7

48.6

220

3500*2200*2340

4000

DN125

PV-0.8/220

0.8

47.0

PV-1.0/220

1.0

41.9

PV-1.3/220

1.3

38.0

PV-0.7/250

0.7

55.0

250

3500*2200*2340

4500

DN125

PV-0.8/250

0.8

54.0

PV-1.0/250

1.0

46.0

PV-1.3/250

1.3

40.0