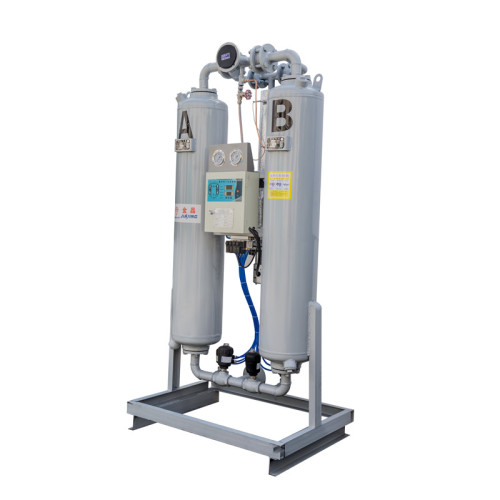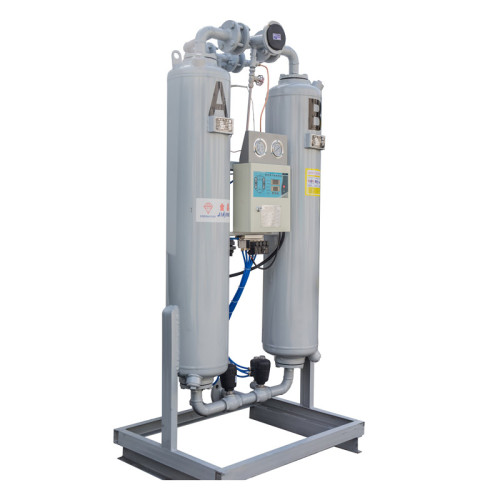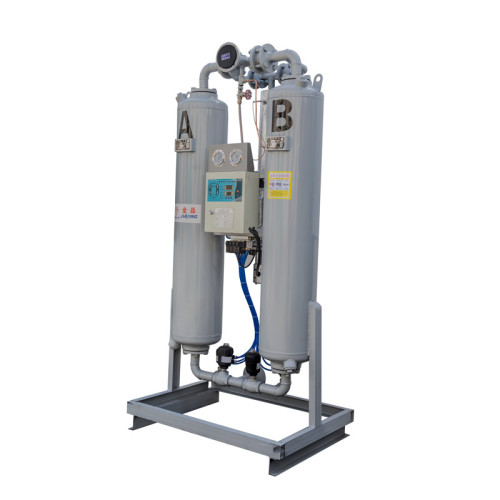 Explosive Proof Regenerated Adsorption Compressed Desiccant Compressed Air Dryer
Item specifics
Air processing volum

1.2-310 Nm3/min
Work pressure

0.6~1.0Mpa
Air inlet oil compone

≤0.1 PPM
Pressure loss

3% of the inlet pressure
Description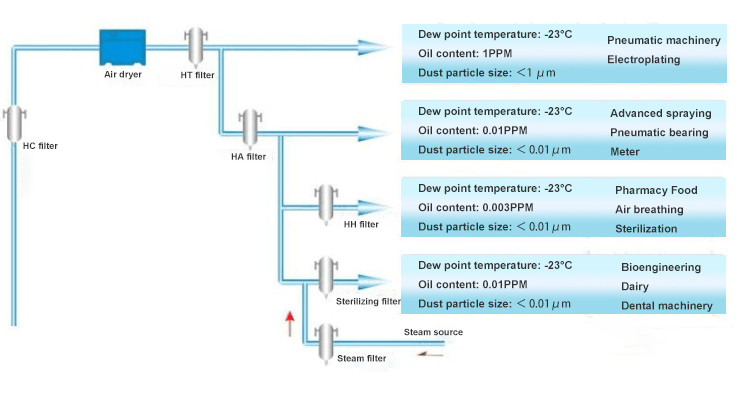 Stable and consistent air outlet pressure and dew point.

A. The reasonable and simple design ensures the contact time between the air compressor and desiccant and meets the dew point requirements for the processed gas.

B. 30% of the desiccant margin is used to compensate for the natural aging of the desiccant and ensures drying.

C. The large diffuser ensures that the air can passes through the desiccant layer uniformly to eliminate the phenomenon of channeling. Regenerative gas loss is less than 14%.

Compressed Air Dryer

A. The excellent cylinder design reserves 95% of the absorbed heat, and the heat stored is used to increase the temperature of regenerative gas in the regeneration stage, and improve the equipment de-absorption capacity, so that the regeneration is more thorough.

B. The drying and regeneration are of the anti-convection plan, ensuring that there is the best effect when the wet air flows through the dry desiccant.

C. The volume of the regenerative gas can be adjusted according to the running load of the dryer.

The long service life of the desiccant

A. The reasonable cylinder size ensures the optimal status of flowing speed and time for the air when it flows through the desiccant layer, so as to fully make use of the performance of desiccant.

B. There is a reasonable system configuration. Before the air enters the cylinder, the oily components and heavy pollutants in the airflow are eliminated with a high-efficiency oil eliminator, so as to prevent the desiccant layer from pollution.

A novel pneumatic valve and advanced and reliable micro-computer program controller are adopted for the equipment, with the characteristics of automatic timing, and automatic work switching, and the work is stable and reliable.

The scientific and reasonable switching time ensures that the outlet air pressure is stable without fluctuation.

Work conditions and technical indicators

Air inlet temperature: 20~45°C

Air inlet oil component: ≤0.1 PPM

Work pressure: 0.6~1.0Mpa

Design pressure dew point: Standard -20°C (-40°C, -7°C).

Regenerative air volume: ≤14%

Desiccant: standard active aluminum oxide, low-dew point active aluminum oxide and 5A molecule sieve combination.

Regeneration mode: heatless regeneration.

Work mode: alternative and continuous work of two absorption cylinders.

Cycle: T=10min

Control mode: micro-computer program control.

Installation mode: no-foundation installation.