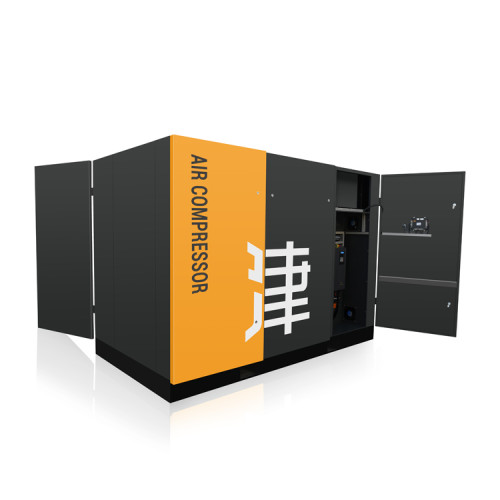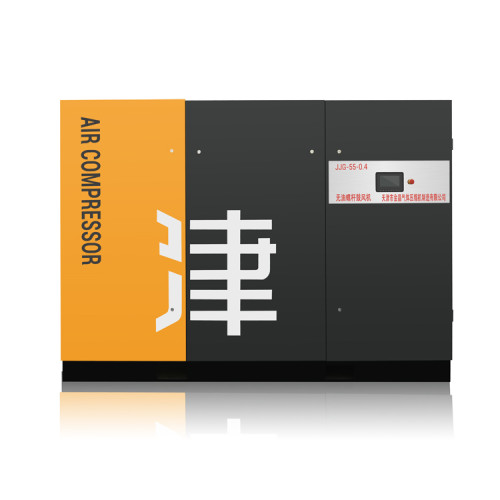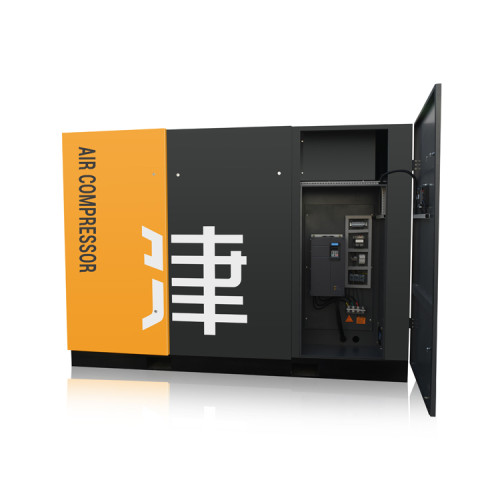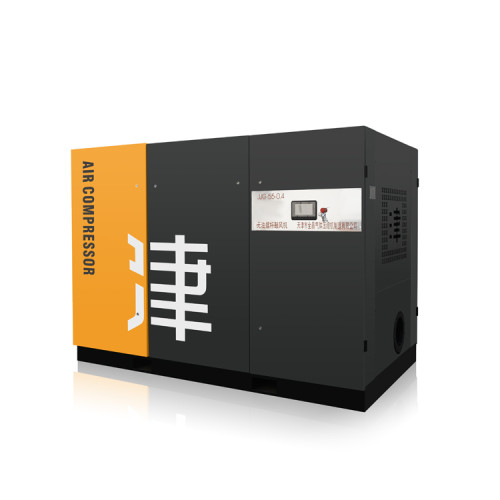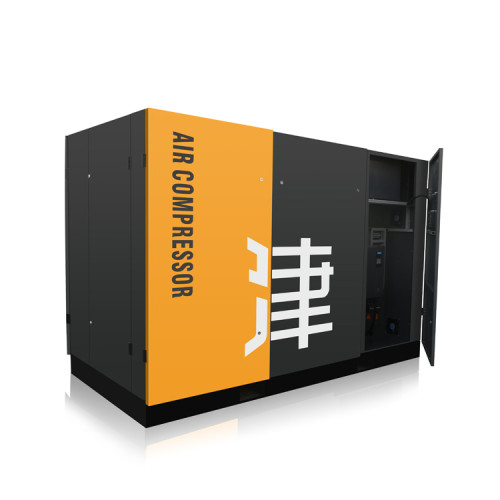 132kw industrial special oil-free dry type pollution-free compressor screw air compressor
Item specifics
Power

15-200 Kw
Displacement

6-100 M3/Min
OEM

Accept
Description
Screw air blower belongs to displacement blower, it is widely used in sewage treatment, desulfurization and oxidation, pneumatic conveying, and other fields. In the aeration field, the screw air blower can automatically adjust its pressure according to the change of water depth, while maintaining a stable flow rate, which is suitable for medium&small air volume needs and harsh environment working conditions. With the characteristics of a wide working pressure adjustment range, strong dust resistance, high efficiency, stability that can start-stop frequently and high-cost performance
, the screw air blower is the most economical blower for the reform of the Roots Blower.
Compressor Screw Blower


The screw air blower adopts a dry-type twin-screw oil-free compressor airend, which is composed of a high-efficiency motor, gearbox, air intake filter, silencer, cooler and intelligent control system. It can realize local and remote control. The integrated box structure is convenient for installation and maintenance.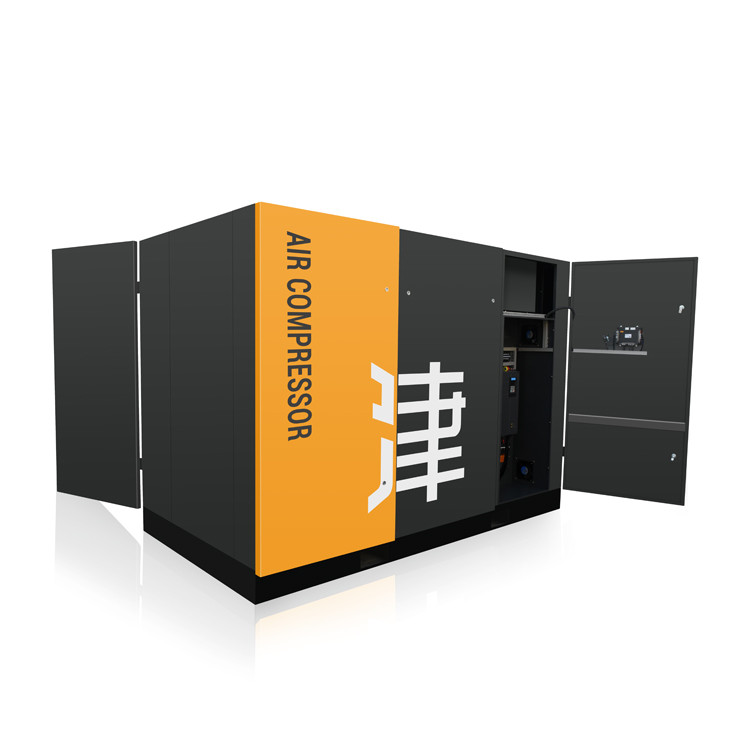 Intelligent Control

*Real-time obtain the operation information

*Monitor power consumption and loading/unloading characteristics

*Reset-able the parameters according to the demand of air management

*Display and view the preset status of each parameter

*Check history records and display maintenance warning

Model

Pressure
(mpa)

Displacement




(

m³/min)

Power
(kw)

Dimension




(

mm)

Outlet Size

SB-0.4/15

0.4

11.9

15

2000*1110*1500

DN150

SB-0.8/15

0.8

8.6

2000*1110*1500

DN150

SB-1.2/15

1.2

6.0

2000*1110*1500

DN150

SB-0.4/22

0.4

25.0

22

2750*1690*1800

DN150

SB-0.6/22

0.6

18.0

2750*1690*1800

DN150

SB-0.8/22

0.8

16.5

2750*1690*1800

DN150

SB-0.4/30

0.4

31.5

30

2750*1690*1800

DN150

SB-0.8/30

0.8

22.5

2750*1690*1800

DN150

SB-1.0/30

1.0

16.5

2750*1690*1800

DN150

SB-0.4/37

0.4

40.0

37

2460*1340*1820

DN200

SB-0.8/37

0.8

26.5

2460*1340*1820

DN150

SB-1.2/37

1.2

19.0

2750*1690*1800

DN150

SB-1.5/37

1.5

16.0

2750*1690*1800

DN150

SB-0.4/45

0.4

48.5

45

2750*1690*1800

DN150

SB-0.8/45

0.8

31.5

2750*1690*1800

DN150

SB-1.2/45

1.2

23.8

2750*1690*1800

DN150

SB-1.5/45

1.5

20.5

2750*1690*1800

DN150

SB-0.4/55

0.4

60.0

55

2750*1690*1800

DN200

SB-0.8/55

0.8

40.0

2750*1690*1800

DN200

SB-1.2/55

1.2

30.5

2750*1690*1800

DN200

SB-1.5/55

1.5

25.5

2750*1690*1800

DN200

SB-0.4/75

0.4

78.0

75

3100*1775*2200

DN300

SB-0.8/75

0.8

56.0

3100*1775*2200

DN200

SB-1.2/75

1.2

42.0

2750*1690*1800

DN200

SB-1.5/75

1.5

32.0

2750*1690*1800

DN200

SB-0.4/75

0.4

95.0

90

3100*1775*2200

DN300

SB-0.8/75

0.8

67.0

3100*1775*2200

DN300

SB-1.2/75

1.2

50.0

3100*1775*2200

DN200

SB-1.5/75

1.5

43.0

3100*1775*2200

DN300

SB-0.4/110

0.4

108.0

110

3100*1775*2200

DN300

SB-0.8/110

0.8

83.0

3100*1775*2200

DN300

SB-1.0/110

1.0

77.0

3100*1775*2200

DN300

SB-1.2/110

1.2

61.5

3100*1775*2200

DN200

SB-1.5/110

1.5

50.0

3100*1775*2200

DN200

SB-0.8/132

0.8

100.0

132

3100*1775*2200

DN300

SB-1.0/132

1.0

89.0

3100*1775*2200

DN300

SB-1.2/132

1.2

76.0

3100*1775*2200

DN300

SB-1.5/132

1.5

60.0

3100*1775*2200

DN200

SB-1.0/160

1.0

100.0

160

3100*1775*2200

DN300

SB-1.2/160

1.2

98.0

3100*1775*2200

DN300

SB-1.5/160

1.5

76.0

3100*1775*2200

DN300

SB-1.5/185

1.5

88.0

185

3100*1775*2200

DN300

SB-1.5/200

1.5

98.0

200

3100*1775*2200

DN300