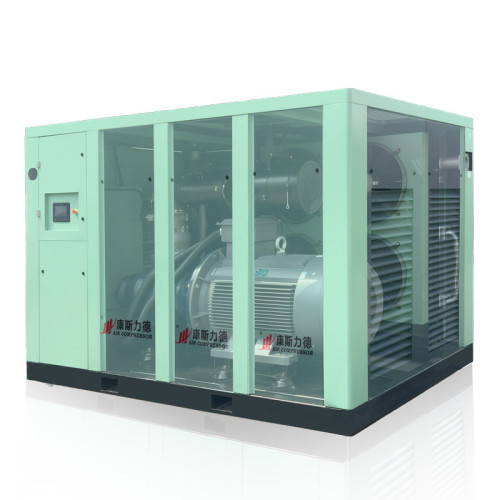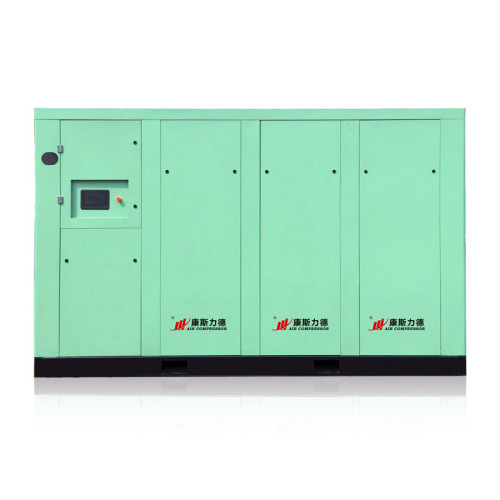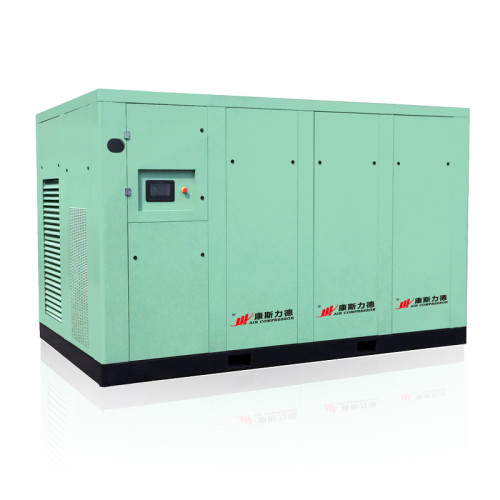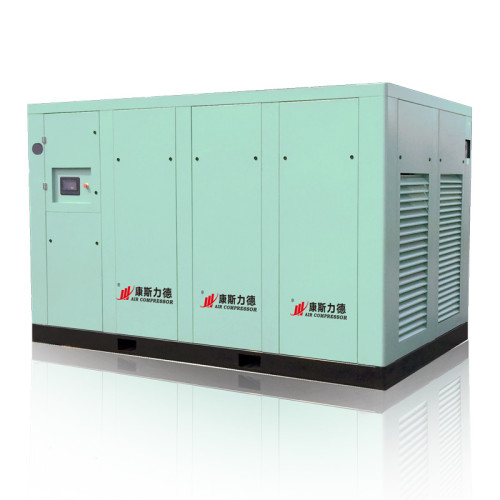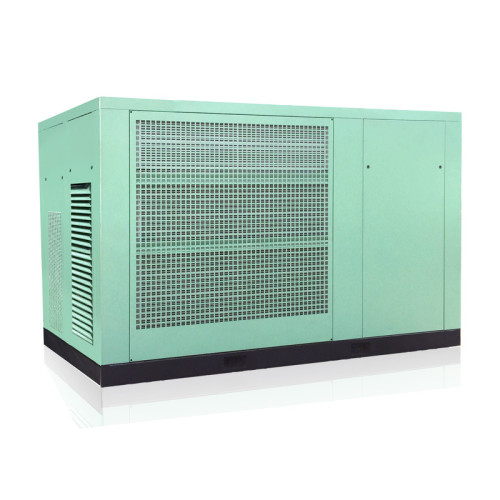 11kw 0.7/0.8/1.0/1.3mpa Fix Speed screw air compressor For industrial workshops OEM
Item specifics
Power

7.5~355 Kw
Displacement

0.86~60 M3/Min
OEM

Accept
Description
1. Remain more than 96% efficiency under any load, Save energy 38% more than ordinary motor.
2. Use coaxial integration structure design, No need to use transmission components such as belt, gear, and shaft coupling, No transmission loss completely, Transmission efficiency reaches 100%.
Screw Type Air Compressor

3. Permanent magnet motor's volume and weight are reduced by 30% and 35% compared to the same power motor.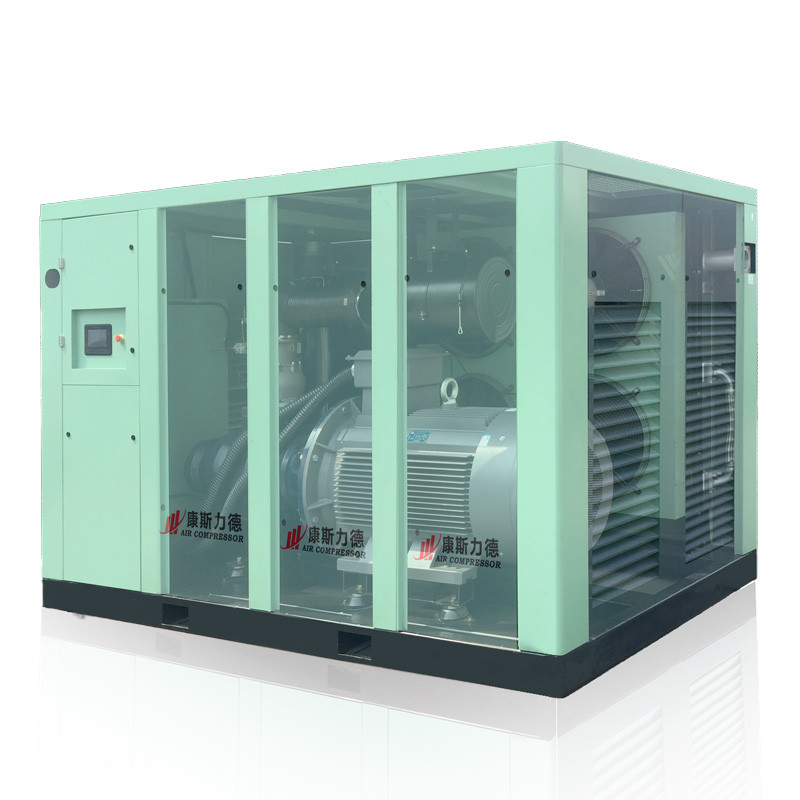 Oil Filter: Jinjing filters ensure longer working life and save maintenance time and cost.
Cooler: High-quality aluminum material, alternating expression cooler fins, ensure the perfect radiating effect.
Air Filter: Two-stage dust removal and filtering system with an efficiency of up to 99.9% even in heavy-duty environments.
Electric Motor: Premium efficiency Totally TEFC IP54/IP55 motor (Class F insulation protects against dust and chemicals etc.
Stainless Steel Pipes: High and low temperature resistant, high-pressure resistant.
Compressed Air Vessel: Reduction of pressure drops and energy costs, quality air with low oil content.
Air End: Original Germany Jinjing air end, advanced SAP profile design.
Model

Pressure
(mpa)

Displacement




(

m³/min)

Power
(kw)

Dimension




(

mm)

Weight




(

kg)

Outlet Size

FSS-0.7/7.5

0.7

1.20

7.5

815*700*855

450

G3/4"

FSS-0.8/7.5

0.8

1.10

FSS-1.0/7.5

1.0

0.95

FSS-1.3/7.5

1.3

0.80

FSS-0.7/11

0.7

1.70

11

1000*750*1120

500

G1"

FSS-0.8/11

0.8

1.60

FSS-1.0/11

1.0

1.40

FSS-1.3/11

1.3

1.20

FSS-0.7/15

0.7

2.40

15

800*950*1100

560

G1"

FSS-0.8/15

0.8

2.20

FSS-1.0/15

1.0

2.00

FSS-1.3/15

1.3

1.70

FSS-0.7/18.5

0.7

3.10

18.5

900*1150*1260

580

Rp1-1/4"

FSS-0.8/18.5

0.8

2.90

FSS-1.0/18.5

1.0

2.70

FSS-1.3/18.5

1.3

2.20

FSS-0.7/22

0.7

3.80

22

1014*800*1200

620

Rp1 1/4"

FSS-0.8/22

0.8

3.50

FSS-1.0/22

1.0

3.20

FSS-1.3/22

1.3

2.90

FSS-0.7/30

0.7

5.20

30

900*1150*1260

980

Rp1 1/4"

FSS-0.8/30

0.8

5.00

FSS-1.0/30

1.0

4.30

FSS-1.3/30

1.3

3.70

FSS-0.7/37

0.7

6.40

37

1550*980*1360

1020

Rp1 1/2"

FSS-0.8/37

0.8

6.10

FSS-1.0/37

1.0

5.70

FSS-1.3/37

1.3

5.00

FSS-0.7/45

0.7

8.00

45

1680*1050*1395

1085

Rp1 1/2"

FSS-0.8/45

0.8

7.70

FSS-1.0/45

1.0

7.00

FSS-1.3/45

1.3

5.80

FSS-0.7/55

0.7

10.50

55

1800*1250*1600

2200

Rp2"

FSS-0.8/55

0.8

9.80

FSS-1.0/55

1.0

8.70

FSS-1.3/55

1.3

7.60

FSS-0.7/75

0.7

13.60

75

2020*1250*1650

2300

Rp2"

FSS-0.8/75

0.8

13.30

FSS-1.0/75

1.0

11.60

FSS-1.3/75

1.3

9.80

FSS-0.7/90

0.7

16.30

90

2020*1250*1650

2800

Rp2"

FSS-0.8/90

0.8

16.00

FSS-1.0/90

1.0

14.60

FSS-1.3/90

1.3

12.30

FSS-0.7/110

0.7

20.30

110

2500*1600*1800

4000

DN65

FSS-0.8/110

0.8

19.40

FSS-1.0/110

1.0

17.30

FSS-1.3/110

1.3

14.60

FSS-0.7/132

0.7

24.00

132

2500*1600*1800

4500

DN65

FSS-0.8/132

0.8

23.00

FSS-1.0/132

1.0

20.00

FSS-1.3/132

1.3

18.00

FSS-0.7/160

0.7

28.00

160

2500*1600*1800

4800

DN65

FSS-0.8/160

0.8

26.50

FSS-1.0/160

1.0

22.50

FSS-1.3/160

1.3

20.10

FSS-0.7/185

0.7

32.50

185

2770*2050*2200

5200

DN65

FSS-0.8/185

0.8

31.00

FSS-1.0/185

1.0

28.00

FSS-1.3/185

1.3

25.10

FSS-0.7/200

0.7

35.00

200

2850*1850*1950

5800

DN80

FSS-0.8/200

0.8

34.00

FSS-1.0/200

1.0

32.00

FSS-1.3/200

1.3

26.50

FSS-0.7/220

0.7

40.00

220

2850*1850*1950

5900

DN80

FSS-0.8/220

0.8

36.80

FSS-1.0/220

1.0

32.20

FSS-1.3/220

1.3

28.50

FSS-0.7/250

0.7

43.50

250

2850*1850*1950

6600

DN100

FSS-0.8/250

0.8

42.00

FSS-1.0/250

1.0

38.10

FSS-1.3/250

1.3

34.60

FSS-0.7/315

0.7

50.80

315

5010*2210*2130

8000

DN125

FSS-0.8/315

0.8

48.20

FSS-1.0/315

1.0

42.60

FSS-1.3/315

1.3

39.80

FSS-0.7/355

0.7

60.00

355

5200*2500*2130

8500

DN125

FSS-0.8/355

0.8

57.00

FSS-1.0/355

1.0

50.00

FSS-1.3/355

1.3

45.00